"The point is this: whoever sows sparingly will also reap sparingly, and whoever sows bountifully will also reap bountifully. Each one must give as he has decided in his heart, not reluctantly or under compulsion, for God loves a cheerful giver. And God is able to make all grace abound to you, so that having all sufficiency in all things at all times, you may abound in every good work." -2 Corinthians 9:6-8
---
"Do not store up for yourselves treasures on earth, where moth and rust destroy, and where thieves break in and steal. But store up for yourselves treasures in heaven, where moth and rust do not destroy, and where thieves do not break in and steal. For where your treasure is, there your heart will be also." -Matthew 6:19-21
---
"As for the rich in this present age, charge them not to be haughty, nor to set their hopes on the uncertainty of riches, but on God, who richly provides us with everything to enjoy. They are to do good, to be rich in good works, to be generous and ready to share, thus storing up treasure for themselves as a good foundation for the future, so that they may take hold of that which is truly life." -1 Timothy 6:17-19
---
Other Bible Verse to Consider About Giving
2 Corinthians 8:1-15, 2 Corinthians 9:1-15, Matthew 6:19-21, 1 Timothy 6:17-19, 1 Corinthians 16:1-2, 1 Corinthians 4:7, 1 Peter 4:10, 1 Corinthians 10:31, Mark 12:41-44
---
---
If you would like to continue to give through Paypal, you can give through this link: PayPal.me/huntingtonfbc
---
GIVE BY TEXT MESSAGE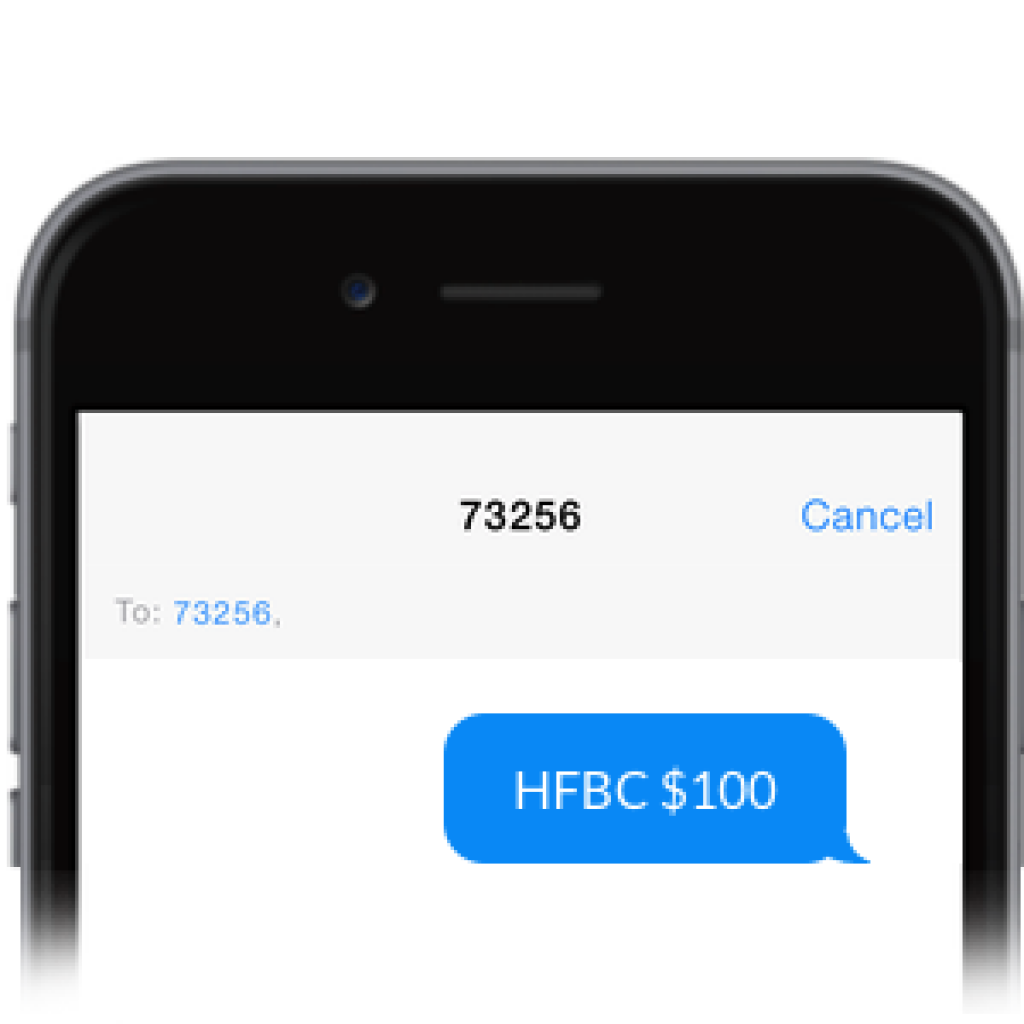 Text HFBC & any gift amount to the number 73256 to give a one time gift.
(if you are on a mobile device)
---
GIVE IN PERSON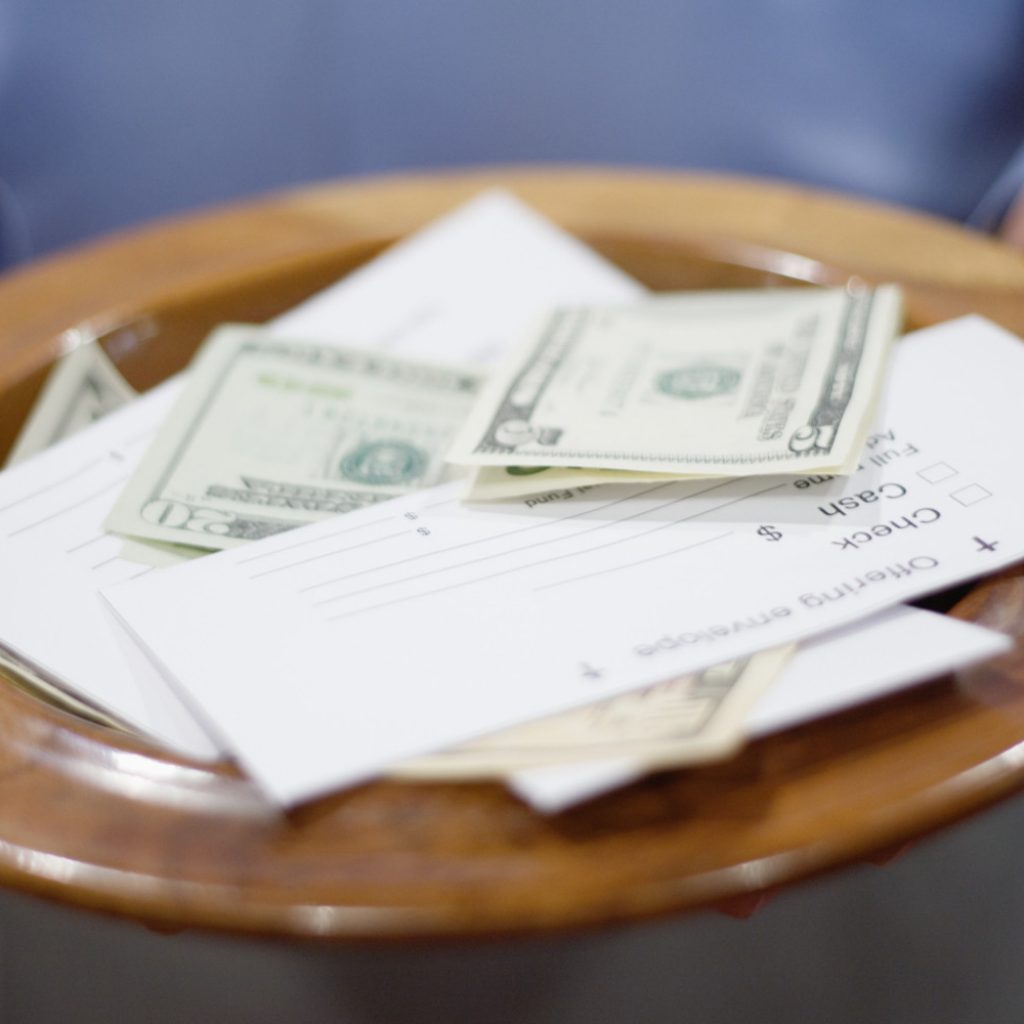 Put your gifts in an envelope with your name and drop it in the offering plate, the offering boxes in the foyer, or in the church office.
Or you can mail it to:
Huntington First Baptist Church
702 N. Main Street
Huntington, TX 75949
---
CHURCH STEWARDSHIP
Our church budget is made up of the regular, faithful gifts of God's people. We want to be transparent about where that money is budgeted to be spent on a yearly basis. We seek to be good stewards of all that God has given to us, and we want to honor God with our finances as individuals and as a church body. We believe that where we spend our money reveals what we value the most. We evaluate our budget yearly to make sure it lines up with what we believe is most important!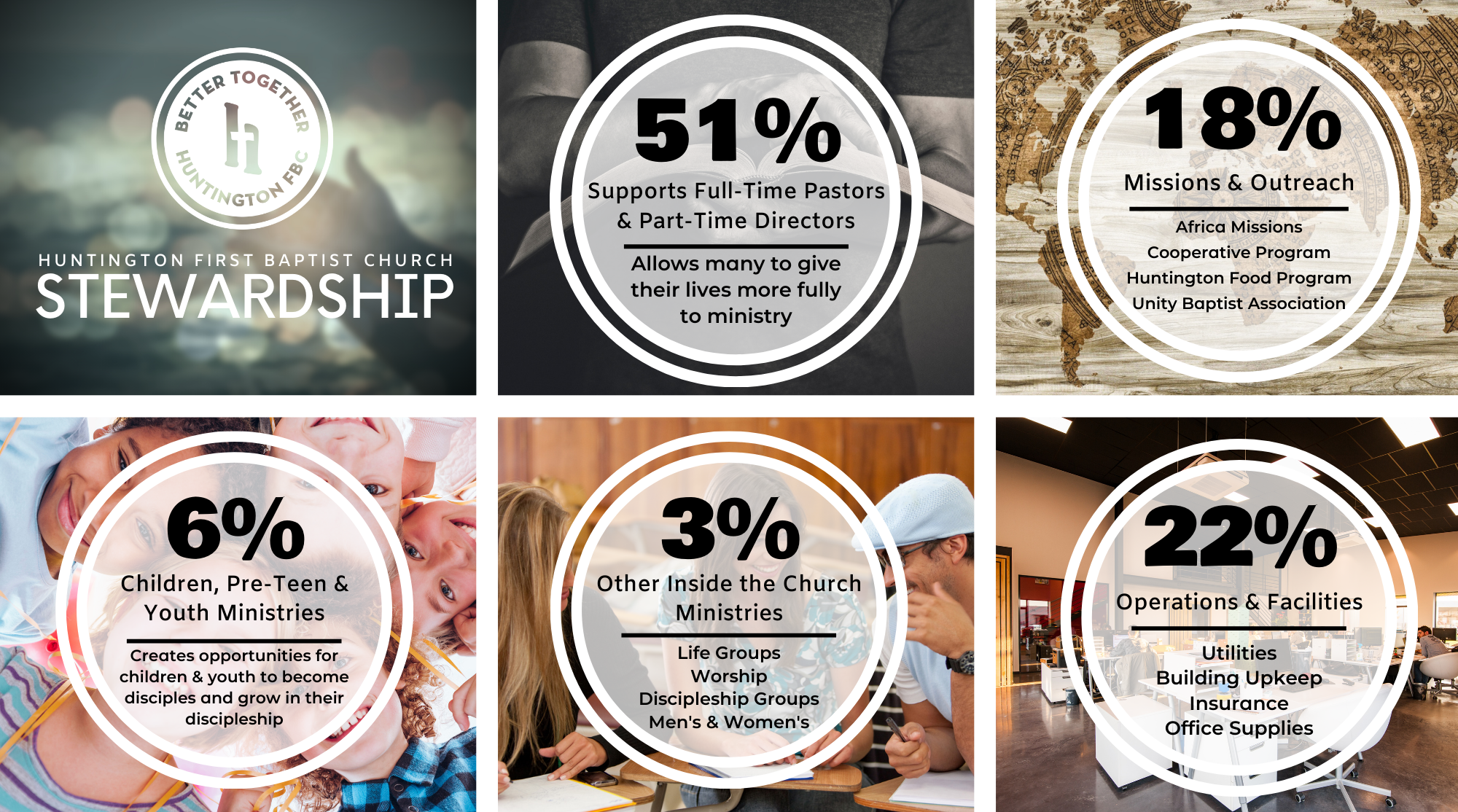 ---
GIVING FAQ'S
Q. ARE THERE ANY FEES OR COSTS TO GIVE ONLINE?
A. The full amount that you choose to donate goes to Huntington First Baptist Church and is considered a tax-deductible gift. There is a fee of 2.65% to the church for the processing of credit and debit cards and 1% for processing checking/savings accounts. You can choose to give an additional amount to cover the processing fees if you would like to. That amount is also considered tax-deductible.
Q. IS MY INFORMATION SAFE AND CONFIDENTIAL?
A. Yes — Online giving is actually less risky than handwritten checks. An online transaction cannot be lost, stolen, or destroyed. Our online giving is now through Vanco. They utilize the most advanced technology and follow the most stringent guidelines to ensure all your information remains secure. And to ensure we adapt seamlessly to any changes in technology or the business environment, we review our security measures and policies continuously. Theyare a certified Level 1 PCI 3.2 Service Provider. For more information about their security, go to: https://www.vancopayments.com/security.
Q. HOW IS MY CONTRIBUTION DOCUMENTED?
A. The Financial Secretary is the only person who will receive an email notice each time a contribution is made online. Using the contact information you provide, your contribution will be recorded for the church records. Your online giving will also be added to your year-end contribution statement. You can also access your giving at any time through the Realm app online or on your phone. You can also print your own year end giving statement through Realm.
Q. CAN I DESIGNATE HOW MY DONATION IS USED?
A. Yes — you can choose to give gifts to the general fund, or to designate the money for a specific purpose if the need arises. We have selected a variety of the most common designations and made them available. If you have other designations that are not listed, please contact the church office.
Do you have other questions? Contact the church office directly for help. 936.422.4311
Or you can email Julie Litton, our Financial Secretary: julie@huntingtonfbc.org